By Bella Fowler, news.com.au
29th April 2022 – (Los Angeles) A witness in the ongoing Depp-Heard trial claims Elon Musk covered nearly half of Amber Heard's donation to a charity for work on gender-based violence issues, despite the actress promising to pour funds from her multimillion dollar divorce settlement into the organisation.
The curious detail of Heard's broken donation pledge to the American Civil Liberties Union (ACLU) comes amid the explosive court battle between her and ex-husband Johnny Depp, 59, who is suing her for defamation.
Depp is seeking $50 million in damages over an article penned for The Washington Post in December 2018 in which Heard described herself as a "public figure representing domestic abuse".
Heard countersued for $100 million claiming she suffered "rampant physical violence and abuse" at Depp's hands.
Today, representatives from the ACLU revealed the article in question was drafted by staffers with email input from the actress.
Heard is an ACLU ambassador for gender-based violence issues, having pledged $3.5 million to the charity in 2016.
Heard, 36, announced she would split the $7 million she received in her 2016 divorce settlement from Depp, half to support the ACLU's work "fighting violence against women", and the other $3.5 million to the Children's Hospital in Los Angeles.
So far, the court has heard the Aquaman star has only paid $1.3 million of the $3.5 million, ACLU COO Terence Dougherty told the court.
In a further twist to the saga, it is believed billionaire Tesla founder, Elon Musk, 50, chipped in nearly half of the donation, with Dougherty testifying he gave $500,000 to the civil rights group as a donor on behalf of Heard after the two began dating after her divorce.
ougherty, whose deposition was taped and played to the court, claimed Heard has only paid $350,000 out of her own pocket, with the rest of the $1.3 million eventually coming from Depp, who forked over $100,000, as well as a donor Dougherty believes was Musk.
Musk, the world's wealthiest man, dated Heard after her 2016 split from Depp.
Musk and actor James Franco were expected to be on the witness list, but The NY Post confirmed this week that neither will take the stand.
Dougherty also told the court that staffers from the non-profit organisation had written the Washington Post article under Heard's name.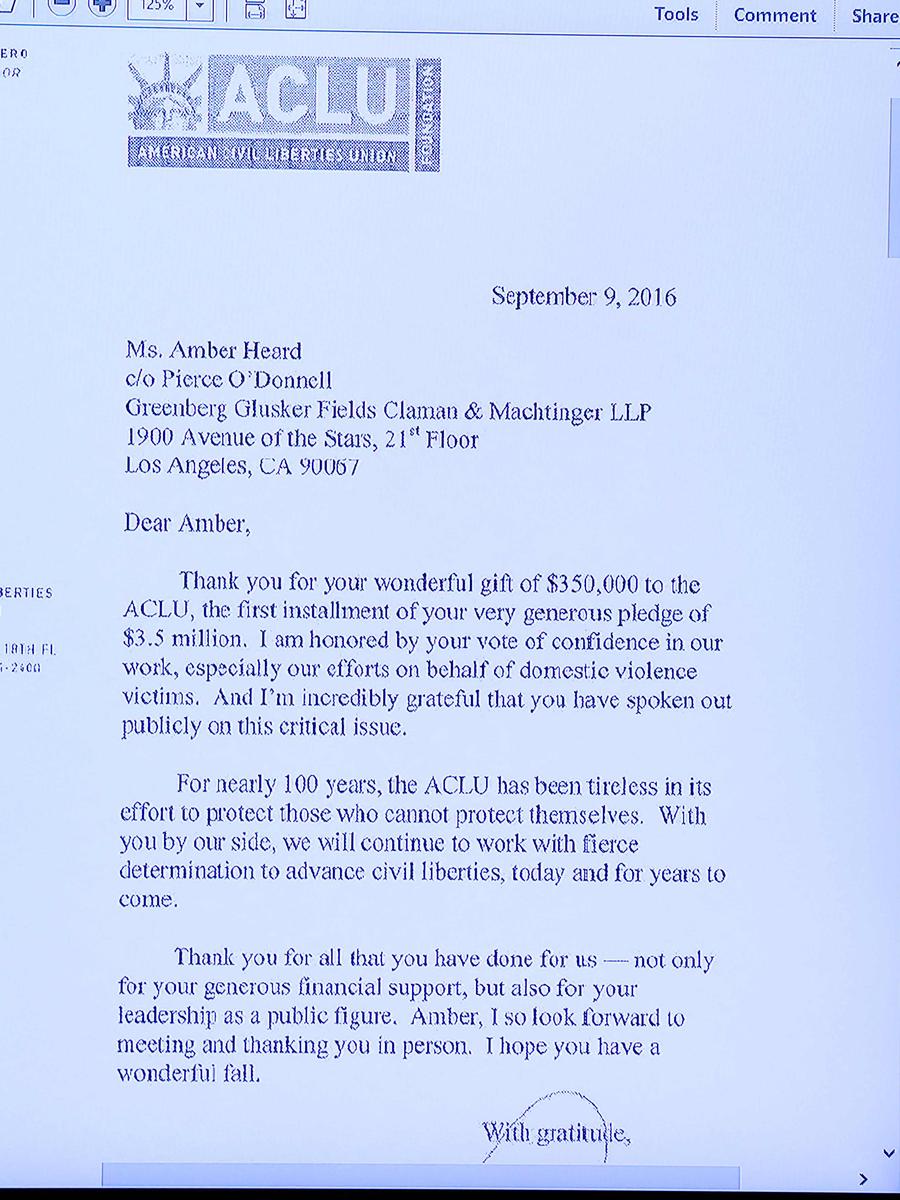 A letter from ACLU to Amber Heard was presented in court today.
Heard's op-ed ghost written by charity
Emails presented to the court from a ACLU communications strategist reveal how Heard's 2018 Washington Post op-ed describing herself as a "public figure representing domestic abuse" came to be.
"I tried to gather your fire and rage and really interesting analysis and shape that into an op-ed form," wrote ACLU communications strategist Robin Shulman in her correspondence, with the first draft of the op-ed attached.
At least three other staffers were involved in drafting and revising the piece, Dougherty revealed.
Earlier drafts included direct references to Depp, which her lawyers had removed given Heard had signed a nondisclosure agreement as part of her $7 million divorce settlement barring her from speaking publicly about the relationship.
More Coverage
Host slams Depp overacting during trialAmber Heard's Elon Musk texts exposed
According to the emails, Heard requested that the op-ed be published shortly after the release of her movie Aquaman.
– With the NY Post and Fox News